Jaz and I went out Saturday to support FlyStock, a fund raising event for Project Healing Waters that was being held at Long's Fish Camp on the Llano River. By the time we had finished mingling with folks, it was already 0800 and we were ready to hit the water. Shawn, a friend of ours, decided to go out a fish in the same area we were headed so we all went down to look at the water.
The Llano was still running high at 400cfs and the water was discolored. Normally you'd be looking at 100-150cfs with gin clear water. We all agreed this would be no easy day of fishing.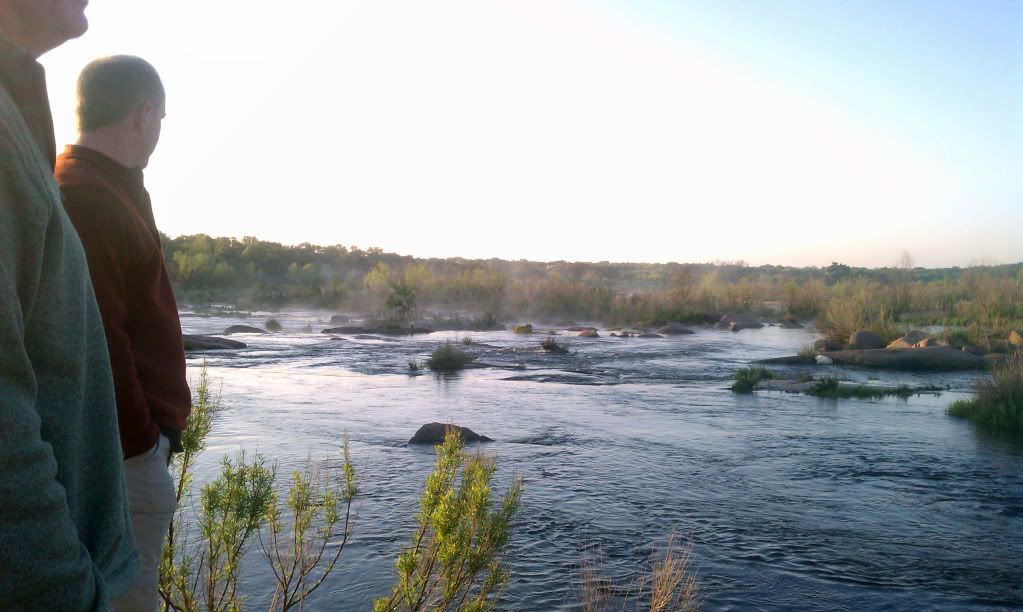 We spread out and started probing different spots that might yield fish. Fly fishing the Llano River is like that in these sections that thread out hundreds of yards wide. You never really know from day to day what the pattern is until you start trying likely areas. Once you start catching them you can determine the pattern and focus your efforts on spots that match.
Aside from catch a few Redbreasts, it was 2 hours before I found the what type of water to look for when my first Guadalupe Bass of the day...
... was followed by my 1st (and only) Largemouth Bass of the day. When I make a cast that I was particularly proud of and this guy boils the water the instant the fly lands.
I left that area to Jaz and went searching for more water like down river. I run across Shawn headed down the thread of river I had planned on following so after check on how he is doing, I try out the next thread of river over. While I was fighting my way through a thicket of small tree I get a SMS image from Jaz on my phone, she has landed a nice Guad and lost the pressure not to be skunked.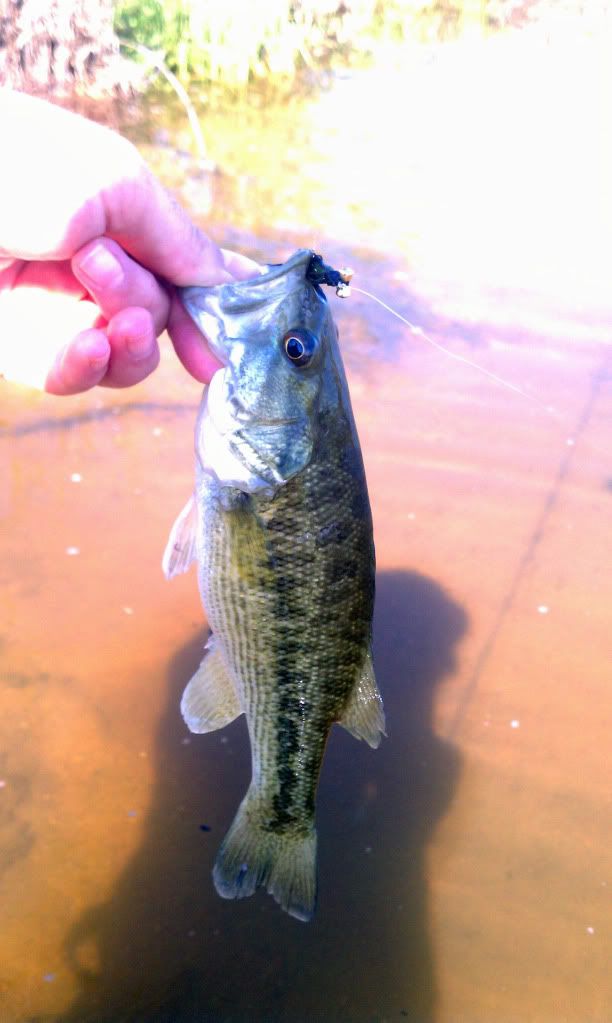 I eventually make my way to the backside of Eagle Rock and more water that looks good.
The water here is teaming with carp, gar and drum but I apparently not Guadalupe Bass, my target for the day. When Jaz appears out of the thicket of trees, I happily relinquish to spot to her. She sits down to change out flies and target the carp as I head further down river. Shawn as also made it to this area and it working adjacent water. Its the last I will see of him until we get back to FlyStock late in the afternoon.
I wade, walk and wade some more before I find what looks like a good spot. Bingo! First cast hooks up a small Guad. A few more casts and I've got another Guad to hand. I notice that I've got a wind knot in my tippet so I stop to snip and re-tie the fly. I get another SMS image on my phone from Jaz, using a drift rig she has caught her first Drum on the fly.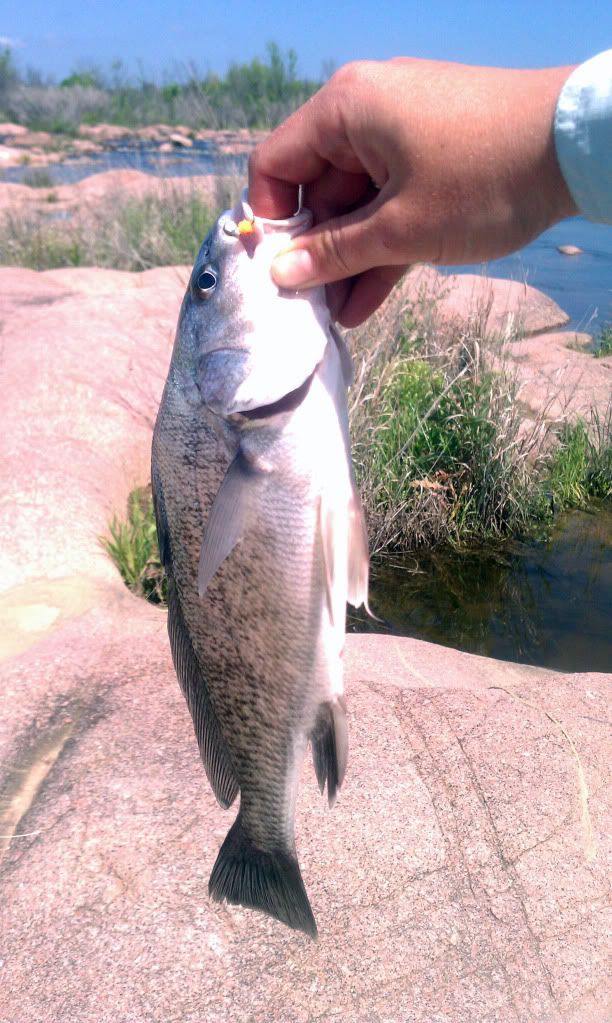 I realize that in my eagerness to keep casting for fish that I've neglected to take pictures. The next cast hooks up with an unremarkable little Redbreast but I go ahead and snap a photo anyway.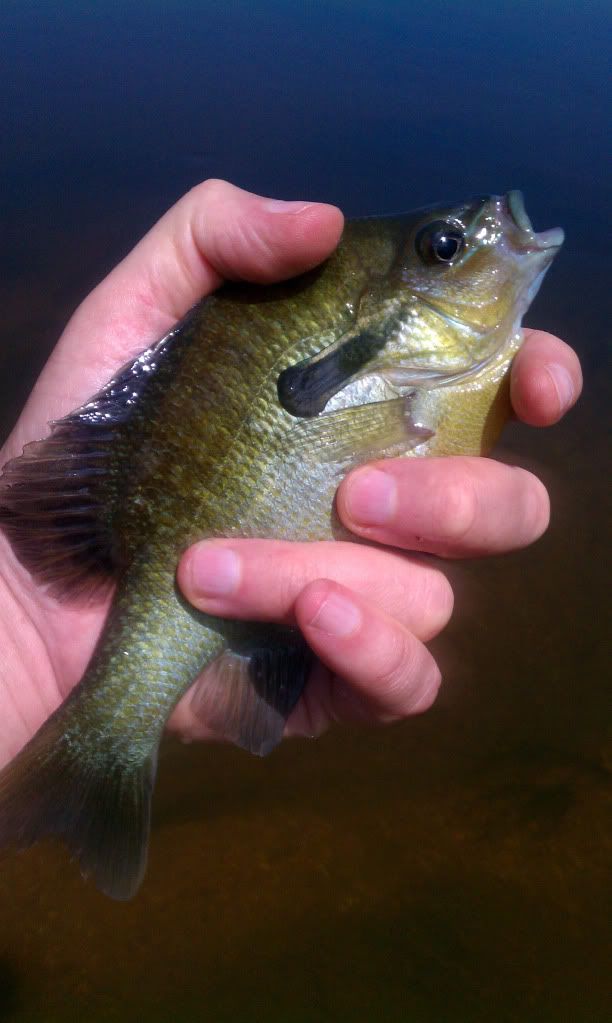 A couple of casts later the fly just gets hammered. I have no idea what I have but its immediately evident that whatever it is, that I've got a handful on the 000wt & 4X tippet. I was probably luckily that it decided to try an upriver run first, the 5 or so minutes that it spent fighting the current and my line took some of the fury out of it.
I still had no idea what it was when it turned and came back down river in a hurry. Reeling like a mad man to prevent slack, I recognized the unmistakable outline of a catfish as it passed by me. When it hit the tension of the line again the beast turned broadside into the current and the distinct color of yellow flashed me. So as the fish used the current to strip line like no tomorrow, I was convinced that my first Flathead Catfish ever was was on an unstoppable run.
Luck was on my side however. The catfish decided once again to change directions and headed up river. I had charged down river in pursuit but now I was walking a slow pace back up river to the same place it started, slowing gaining back line as I went. She would never have the upper hand again in this battle and after an exhausting fight that might have last 20 minutes i finally got her into the net. In the end she was not a Flathead but still a very respectable Channel Catfish.
We had no way to measure her but she easily beat my old personal best of 20.5 inches.
The long battle had spooked every fish for hundreds of feet in this thread of river so Jaz and I decided to cross over the main river and head back up river, working our way back to FlyStock.
We saw a lot of carp, drum and gar but didn't catch squat on out return. I would have to say however that the view along this side of Eagle Rock as we headed up river was worth the trip alone.
Here's a closer shot.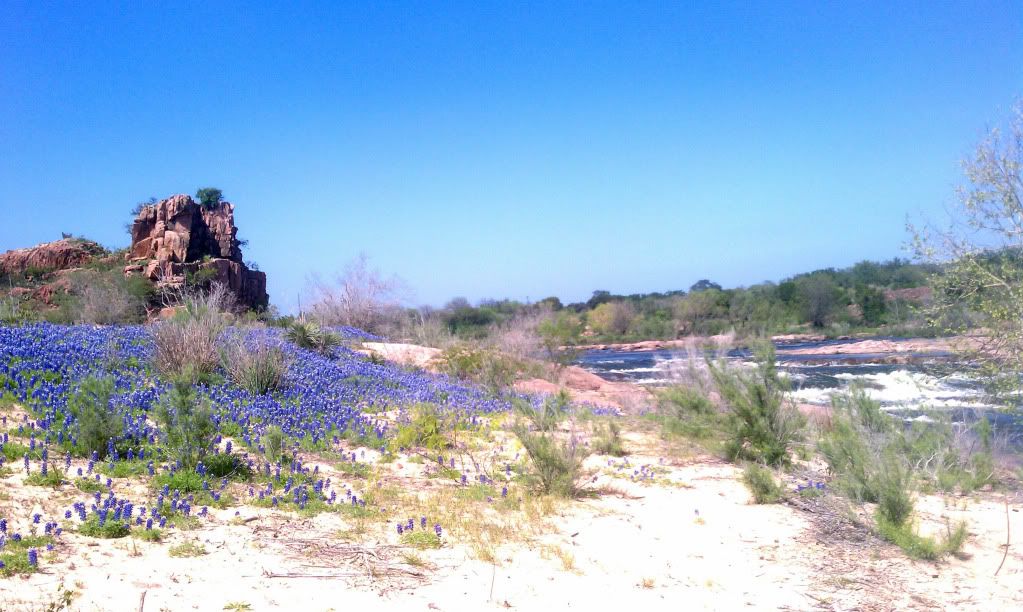 Back at the event we spent the afternoon eating, talking about the day, fly fishing and kayaks. I had to leave just as the band was starting to play but definitely had a great day.