Yesterday was a windy day, but the temperature was going to reach almost 50 degrees in the early afternoon, per what the weatherman was reporting? Woo hoo! I drive a school bus for a Marine Corps Junior Reserve Officers' Training Corps School! Good job for a old retired army guy and I really enjoy it with the young folk and of course military structure. Well the Cadets are doing midterm testing and have early dismissal on Friday, my day would be done or finished at around 1 P.M. Well I had the time to do some deer hunting or maybe some fishing! Decided to fish instead of sitting in a climber tree stand…Too windy and chilly for me this time of year. But ponds are iced over and of course wind blown. In years pass I have had luck catching golden shiners with earth worms in the creek, north of the house at the train bridge in mid January. (Protected water from wind and open, not iced over)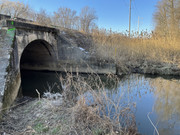 It seems that some of these earth worms make it into the water column with the snow melt and run off! With the ultra light spinning gear, small bobber, single split shot, hook and worm, it's not a problem landing five or six in short order. (Last years picture)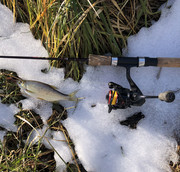 It was time to match the hatch at the tying vise and tied up a small San Juan worm in brown, which I thought looked awesome!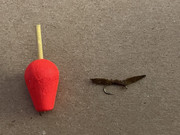 The goal was to catch a golden shiner on the two weight C.G.R. This was also the first time I was going to use an indicator on my flyrod. I usually just do the tight line and watch the floating fly line movement for a strike and set the hook. With life, we many time set our goals or expectations too high and this was the case with landing a golden shiner on the fly! I was very pleased with my casting skills and did a fair job of casting the fly worm and indicator on the smallest creek. The shiners were not interested in my awesomely tied brown San Juan worm drifting through the water column and no takes from them. After sometime in this Fly Fishing endeavor, some vegetation and line snags… it was time to save face and hopefully land a bluegill. Rerigged the leader by removing the strike indicator and tying on one of my baby wooly buggers in brown.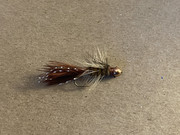 OMG… first cast… watching the floating fly line meander down the creek… A little twitch of the line…hook set and fish on! Woo hoo!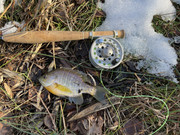 Love these Blue Gills awesome fishing on the fly in the middle of January!
Enjoy and Be Safe!