SharkBait wrote:
Thanks for putting this up. Can't wait to try it once I get my tying material unpacked
No problem. Sorry for the typos and mediocre photos. Put that together sitting at the galley table on the tugboat.
While I was thinking about it, I pulled out some 2-tone foam (sticky-back sheets from the craft store) I had on-hand for a hopper pattern and tied these ....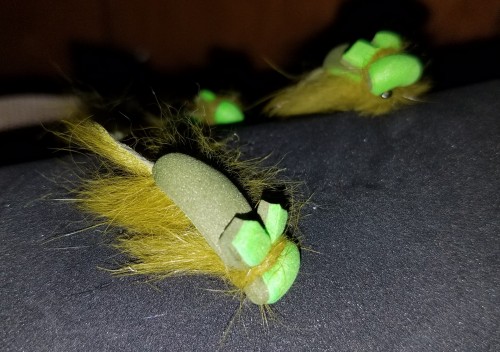 Here's my thinking: the pattern was originally created for throwing to big browns at night. Lately, while wading back up to a put-in after dark, I've come across some huge channel cats that I don't see during daylight hours. I've had channel cats eat ultralight spinning baits on top before, so .....
The color is for my convenience. Suspect all the fish care about is the silhouette and action.
Thoughts?
*Obviously no reason to double the already 4mm strip for this.